Juice Plus+
Berry Blend Chewables Pocket Packs
Make our tasty soft chews a part of your daily routine!
Ideal for children and for grownups who don't like to swallow capsules, Juice Plus+ Berry Chewables complement your diet with added nutrition from berries and grapes in a delicious vegan gummy form.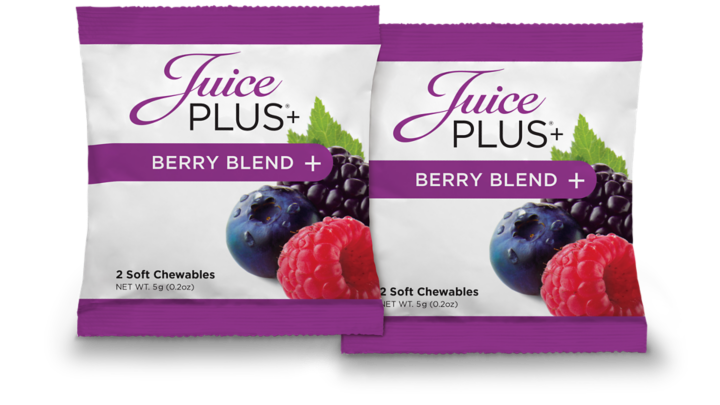 Made without GMO ingredients

No high-fructose corn syrup
---
The Power of Fruits and Vegetables

A varied and balanced diet includes a wide variety of fruits and vegetables, which provide important plant nutrients and vitamins that the body needs in order to be at its best every day.

The best parts of fruit, vegetables and berries.
Whenever possible, we take the whole fruit, vegetable or berry, including peels, leaves and seeds, to include as much of the whole food nutrition as possible in our fruit, vegetable and berry powders.

Which berries can you find in Juice Plus+ Chewables?

Product Overview
Plant-based
Vegan
Whole food based
No high-fructose corn syrup
Gluten-free
Certified non-GMO
Certified for quality and safety by NSF
Certified Kosher 
Directions:
Adults consume two packs every day.
Children consume one pack every day.